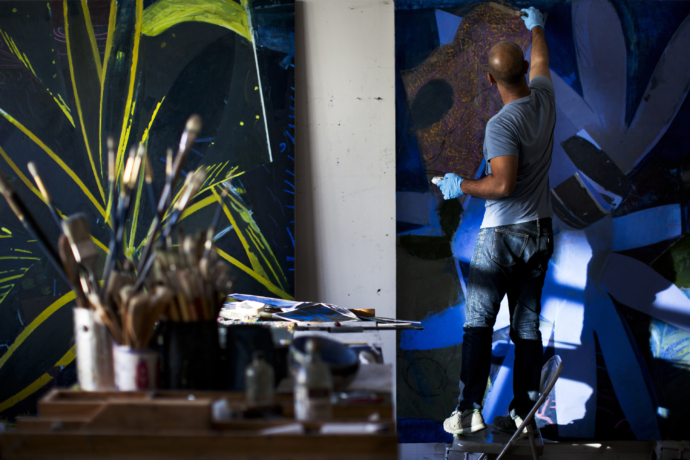 Exhibitions
SANGRAM MAJUMDAR: HERE
Sangram Majumdar
Sangram Majumdar appears as Fall 2016 UTC Diane Marek Visiting Artist (October 22 – October 26, 2016)
Artist's Lecture: Tuesday October 25, 5:30pm, Room 101 Derthick Hall, 624 Vine Street,
followed by an Opening Reception in the lobby of the Fine Arts Center, 752 Vine Street
Other Diane Marek Series events open to the public:

+ Process and Materials Discussion, Cress Gallery, Tuesday Oct 25, 11:00am – 12 noon
+ Professionalism Session, Room 356 Fine Arts Center, Tuesday Oct 25, 2:00 pm – 3:00pm
Parking: After 5:00pm on weekdays and all day on weekends, visitors to the Cress may park free in any nearby lot not marked "24 hour reserved". Before 5:00pm on weekdays, visitors may find limited nearby street parking or park in the 5th Street Garage near MacKenzie Arena for a $4.00 fee and stroll across campus to Vine St. or ride the circulating campus CARTA shuttle from the 5th St. stop to the Vine and Palmetto stop. For more information about parking visit www.cressgallery.org

Sangram Majumdar explores the intersection of varying pictorial conventions, from the figurative to the purely abstract. The resulting paintings evolve as conversations between reality and fiction, logic and ambiguity, the familiar and the unexpected.
For his exhibition in the Cress, Majumdar presents nine paintings created between the years of 2012 and 2016 including four monumental oils on canvas that reach a height of seven feet. In addition, the Cress's auxiliary gallery holds fifty-two small individual works most on paper in materials ranging from charcoal, pencil, oil, and mixed media. These works function in a variety of roles, some as explorations, some as rehearsals, others as finished paintings in their own right. All sow seed for new thought and provide continuity and connection in the artist's practice.
Majumdar's paintings operate as thresholds into experience. His approach to painting is centered around the process of perception, as he works from objects in his domestic space, materials he arranges in his studio, the pattern of light and shadow cast by the sun streaming through a window, a photograph, a memory, even his own painterly interventions. All can be an image and each are formally analyzed and dissected. Their reconstruction reveals and obfuscates. Shape and color become synonyms of their origin, and recognition–the naming of something–begs the mystery of its presence. Swaths of vibrant color give way to passages of tonal subtlety. Gravity and weightlessness coexist.
Ultimately Majumdar's work is about painting. Its presence and transformative potential, and its magnificent purpose through the millenniums, has evoked thought about the evolving nature of what life is and who we are.
"Painting for me is about slowing down, and finding a way to use the world around me to better understand myself. In turn I believe it makes me more empathetic towards others." – Sangram Majumdar
Born in Kolkata, India, Majumdar holds an MFA from Indiana University and a BFA from the Rhode Island School of Design. He has exhibited extensively both nationally and internationally and has lectured on his work at numerous colleges including SVA, Pratt, RISD, PAFA, SUNY-Purchase, Princeton University and the New York Studio School.
Recent solo exhibitions include Georgetown University, DC; Steven Harvey Fine Art Projects, NY; Rothschild Fine Art, Tel Aviv, Israel, and the Kresge Art Museum, MI. Recent selected group exhibition venues include James Cohan Gallery, NY; Zurcher Gallery, NY; Morgan Lehman Gallery, NY; Come Together: Surviving Sandy, curated by Phong Bui, Brooklyn, NY; Salon Zürcher, Paris, France; the 2010 Invitational Exhibition of Visual Arts, American Academy of Arts and Letters, NY; US Embassy, Sierra Leone, and the Aichi Prefectural Museum of Art, Nagoya, Japan. Awards include a MacDowell Fellowship, a residency at Yaddo, the 2009-10 Marie Walsh Sharpe Studio Space Program Grant, a MICA Trustees Award for Excellence in Teaching, and two Maryland State Art Council Individual Grants in Painting. His work has been published in drawing textbooks: Drawing Essentials: A Guide to Drawing from Observation (Oxford University Press, 2008), Drawing: Structure and Vision, (Prentice Hall, 2008) and Exploring Life Drawing (Thompson Delmar Publishing, 2007). Majumdar lives and works in Brooklyn, New York. He is a full-time Professor of Painting at the Maryland Institute College of Art.
image: Sangram Majumdar in his studio; image credit: Tallisman Brolin