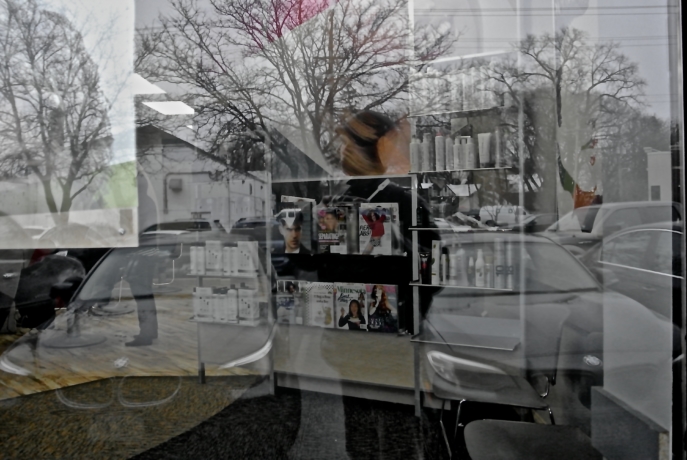 Exhibitions
(RE)INVENTION
Monica Chulewicz, Mara Clawson, Courtney Cooper, Christine Driscoll, Victoria Dugger, Nicholas Fagan, Benjamin Gibbs, Harrison Halker Heinks, Zàira Lee, Jeremie Miller, Abigail Nash, Alexandra Novess, Kate Pincus-Whitney, Alice Shockey, Darryl Terrell
The Hunter Museum is pleased to present (Re)invention, an exhibition of art from fifteen emerging young artists across the United States who are living with disabilities. Ranging in age from 16 to 25, the artists in this exhibition explore what it means to have a disability and yet resist being defined solely by it. Through their art-making, they question common societal perceptions and expectations as well as discover a profound sense of self. As one artist says, "Making art makes me who I am." The exhibit opening at the Hunter Museum on Thursday, March 16 at 6pm features a talk by artist Kate Pincus-Whitney, whose work can be seen in (Re)Invention. The exhibit will be on view at the Hunter through May 21, 2017.

Each artist presents a unique story through works that range from bold self portraits, to whimsical animation, to soft sculpture. Rather than allowing their disabilities to label them, the artists in this exhibition produce work that embodies the theme of re-invention, re-definition, and re-making. Each artist uses art to consider such identity-based topics as fragility, intimacy, isolation, race, gender, and the body.
Through their various artistic practices, these artists create new contexts that broaden our understanding of disability and foster a sense of inclusion and community.
(Re)Invention is the 15th exhibition presented by the John F. Kennedy Center for the Performing Arts as part of the VSA Emerging Young Artists Program, a Jean Kennedy Smith Arts and Disability Program. The result of a longtime collaboration with Volkswagen Group of America, this national art competition and exhibition gives artists with disabilities the opportunity to display their work in venues across the nation.
Visiting Artist Bio:
Born and raised in southern California, Kate Pincus-Whitney celebrates portraiture and the theater of the dinner table in her narrative paintings and multi-media installations. Her art is informed by her experience of navigating the world with dyslexia and stereo-blindness: female forms, table scenes, food, patterns, color, and abstracted and misspelled words are recurring motifs woven into her work. Pincus-Whitney aims to synthesize social and political themes of identity with visual memory and personal histories. She sees herself as an "artist anthropologist," following and celebrating the thread of women in her family history, depicting female strength, resilience, and creativity.
Pincus-Whitney is a 2016 graduate of Sarah Lawrence College, where she focused on visual and performance art. She is currently working as an artist, and divides her time between New York and California.
General admission to the Hunter Museum, including this special exhibition, is $15 for adults and free for youth 17 and under. As always, members are admitted free. To learn more about membership, visit www.huntermuseum.org/memberships.
---
Image credit: Harrison Halker Heinks, Vanity, 2016, Inkjet print (24 in x 18 in)