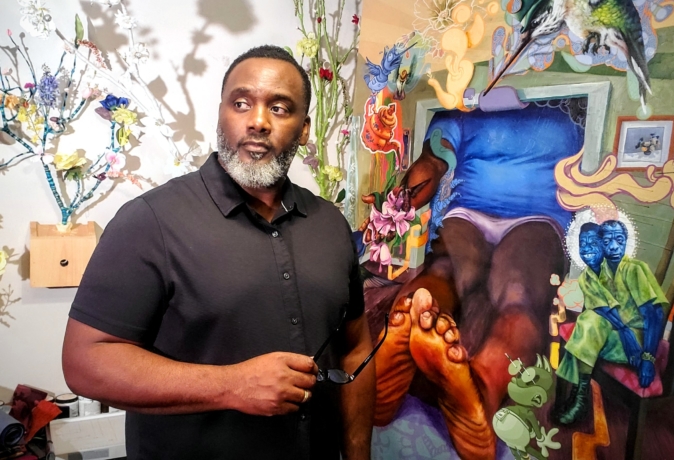 Exhibitions
SAM DUNSON: RECONSTRUCTION
Sam Dunson
Channel to Channel presents Reconstruction, a solo exhibition of work by Samuel Dunson.
Partially inspired by a move from Nashville to Atlanta, Samuel Dunson's recent work focuses on the historical processes of reconstruction: what it means to rebuild, to construct a new life out of one's own history in the context of American History. His upcoming show at Channel to Channel, consisting of paintings of his family and friends on small, handsewn panels of secondhand fabric, works within this theme, speaking on issues that are simultaneously personal and political.
Samuel Dunson received his BS in Studio Art from Tennessee State University and his MFA from the Savannah College of Art and Design. He has worked as an Associate Professor of Art at Tennessee State University since 2000, teaching painting, drawing, and 3D design. He currently resides in Atlanta, GA.
Recent exhibitions and awards include Smithsonian National Museum of American History, National Underground Railroad Freedom Center, and Frist Museum of Art. He recently received Best in Show at Valdosta State University, GA. Duson has recently been featured in Create Magazine #26, New Visionaries Vol. 1, and Pandemic Self Portraits.
Opening Reception will be Saturday, September 10, 2022. 4-7 PM.
On view through October 1, 2022. Gallery Hours: Friday & Saturday, 12-4 PM and by Appointment.