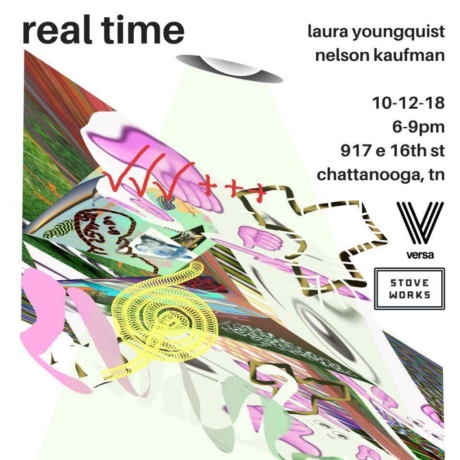 Exhibitions
REAL TIME
Laura Youngquist, Nelson Kaufman
Please join us for the opening reception of Real Time featuring Laura Youngquist and Nelson Kaufman. This exhibition is taking place concurrently with Seed Space + Stove Works's opening of Melt My Heart But Spare My Soul at the old Persian Rug factory. This is a free event, open to the public! We hope to see you all there!
---
Nelson Kaufman is an interdisciplinary artist living and working in Atlanta, GA. He received his BFA from Indiana University in 2015. Recent works have been on paper, wood and digital drawings on Samsung devices. Working themes include disorder, congestion, sarcasm, fragmented perspective, and gestural digital compositions influenced by the omnipresent whirlpool of social media.
Laura Youngquist was born and raised in South Bend, Indiana, Laura also stayed in Indiana for college. She received a BA in Gender Studies and a BFA in Sculpture from Indiana University. After undergraduate school, Laura finally left Indiana for Atlanta where she currently works in her studio and in a kitchen, living with her boyfriend and puppy.