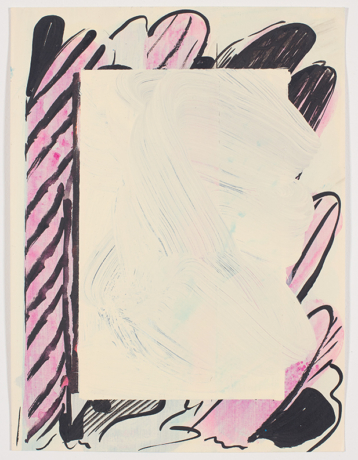 Exhibitions
PIERRE OBANDO
Pierre Obando
University of Tennessee at Chattanooga assistant professor of painting and drawing Christina Vogel is pleased to present work by Pierre Obando at Office Space, Mar. 21-April 25, 2019. Directly informed by Dannielle Tegeder's Faculty Office project, through this initiative, Vogel invites artists to show their work in her UTC faculty office to create new opportunities to engage with contemporary art. It is in the spirit of connecting with artists from beyond of our region, with the aim to bolster our artistic community by building new relationships, that this project has been developed.
---
Bio | Pierre Obando was born in Belize City, Belize and grew up in the U.S. Virgin Islands, Miami, Fl, and Jackson, MS. He completed his MFA at Hunter College in 2001, New York, NY, which included a study abroad semester at the Slade School of Art in London, UK, and he earned his BFA from the New World School of the Arts, Miami, FL, in 1997. Obando works primarily in the mediums of painting, drawing, and photography. His work was featured in the Queens International Biennial in 2004 at the Queens Museum, Queens, NY. Obando has been in group exhibitions at Rockland Center for the Arts, West Nyack, NY; Rush Arts Gallery, New York, NY; MACO Mexico Art Fair in Mexico City; Nina Freudenheim Gallery, Buffalo, NY; Royale Projects, Indian Wells, CA; The Painting Center, New York, NY; Dean Project, New York, NY; Nathan Cummings Foundation, New York, NY; Newman Popiashvili Gallery, New York, NY, Thierry Goldberg Gallery, New York, NY; Bemis Center for Contemporary Arts, Omaha, NE; Torch Gallery, Amsterdam, Netherlands; Longwood Art Gallery, Bronx, NY; and Marisa Newman Projects, New York, NY. Obando has had a solo exhibition at Heskin Contemporary, New York, NY, in 2008; Rush Arts Gallery, New York, NY in 2009; and Thierry Goldberg Gallery, New York, NY, in 2015. He attended the Atlantic Center for the Arts Artists-in-Residence Program in 2012 and the Bemis Center for Contemporary Arts Artist-in-Residence Program in 2013. He is on the faculty at SUNY at Old Westbury. Obando lives and works in New York City.
Artist Statement | Perhaps comforting himself, a once artist turned dealer intuited a speedy execution for a work of mine and told me, "its taken you your whole life to be able to make that." Meaning that an apparent brevity of labor didn't mean a deficit of intentionality. The works I've selected have contrasting temporalities for their execution, but at a deeper level the contrast has to do with the archeology they reveal. The tempo of painting delves into sedimentation that is both material and mental. More labor has been expended in the works on paper; with several previous states buried within them. These sheets of paper kicked around the studio serving all sorts of experiments and ideas; they're a record of the ticking clock. That accumulation does not weigh them down in their past, rather it indicates a present tense of trying out possibilities. Quite differently, the black and white paintings accompanying them are done in one go. These works are the result of an uninterrupted period of painting decisively, letting the marks and their groping at an image be. Acrylic paint is thinned out and handled comparably to ink wash drawing. A process that epitomizes being in the here and now. Yet this is primarily the case on a surface level, because the imagery comes from somewhere that I don't comprehend nor question. The palm trees and curtained windows must be from my Caribbean upbringing before coming to the USA. Is painting quickly with minimal deliberation a path to profundity, I don't know. But I'm reminded that the suggestion to slow down is usually intended for focusing on the present. What I do know is that process painting abstraction has fortified my work, but gesture as improvisation and empathetic action consistently expands its scope.
---
Office Space is located on the campus of the University of Tennessee at Chattanooga, in Bretske Hall 203. Office hours are Monday 2-4pm or by appointment (christina-vogel@utc.edu), on view through April 25.
Opening reception: Thursday, March 21, 10am-noon
---
image: tbt, 2016, acrylic and enamel on paper, 12 x 9 inches