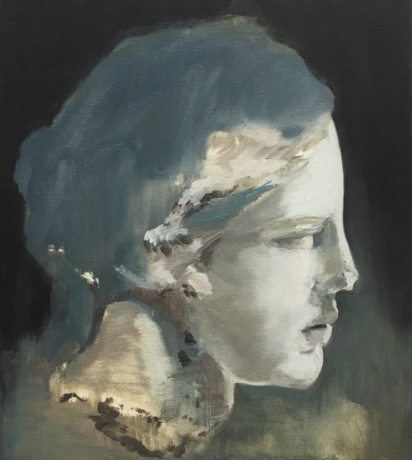 Exhibitions
MARISA KERIS
Marisa Keris
University of Tennessee at Chattanooga assistant professor of painting and drawing Christina Vogel is pleased to present recent work by Marisa Keris through Office Space. Directly informed by Dannielle Tegeder's Faculty Office project, through this initiative, Vogel invites artists to show their work in her UTC faculty office to create new opportunities to engage with contemporary art. It is in the spirit of connecting with artists from beyond of our region, with the aim to bolster our artistic community by building new relationships, that this project has been developed.
---
Bio | Marisa Keris graduated with a BFA from the Rhode Island School of Design in 2007 where she studied painting and attended the European Honors Program in Rome, Italy. Returning abroad in 2016, she studied for one year at Temple University Rome and completed her MFA in Painting from Tyler School of Art in Philadelphia, PA in 2018. She is a 2017 recipient of the Elizabeth Greenshields Foundation grant. Her work has been exhibited in California, New Jersey, Rhode Island, Alabama, Pennsylvania, Oregon, West Virginia, Italy and France. She currently lives in Philadelphia.
Artist Statement | My current body of work reconfigures ancient statues to appear vulnerable and humanlike in order to subvert classical ideas of beauty and perfection. These fragments are degraded by time and mirror the exploitation of the natural landscape. The environment is in a constant cycle of destruction and renewal. I personify nature and beauty as both threatened and threatening, and make paintings with the intention of describing these contradictions. A complication of painting is that it can both embrace and resist cultural and social systems which objectify the female form and nature. The foundations of contemporary artistic training are deeply rooted in these traditions, and Western cultural standards of beauty are established through these ideologies. I am recontextualizing forms derived from classicism in order to cultivate recognition of nature and the female figure from a female perspective.
---
Office Space is located on the campus of the University of Tennessee at Chattanooga, in Bretske Hall 203. Office hours are Monday 2-4pm or by appointment (christina-vogel@utc.edu), on view through December 6.
Opening reception: Thursday, November 1, 10am-noon
---
image: Black and Blue, 2018, oil on canvas, 16 x 18 inches