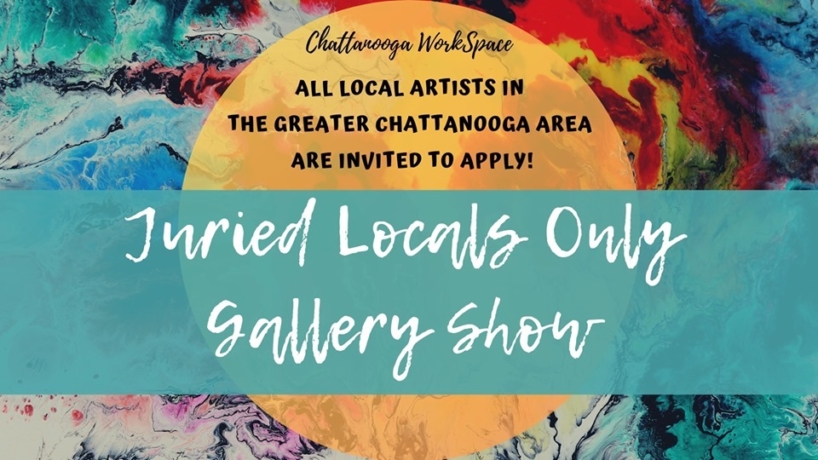 Exhibitions
JURIED LOCALS ONLY
Ann Currey, Anna Carll, Brandi Donan, Brooke NaeCole Craig, Catherine Norrell, Charlie Pfitzer, Chris Tanis, Kris BD, Debbie Thompson, Elena Burykina, Erica Birch Art, Faye Ives, Gabrielle Stern, George Grayson, Janice Kennedy, Jennifer Green Kring, jennifer warren, Judith A. Jasinski, Julia Morgan Scott, Justin Holyfield, Kate Dukes, Katie Ward Knutson, Kay Boak, Kelly Spell, Leah True Salerno, Lupina Haney, Maria Willison, Marisa Goodman, Mark Salmi, Mary Ahern, Mia Hansford, Misty Ogle Semanco, Randy Fairchild, Renel Plouffe, Rik Herrmann, Ruth Pearl, Sadaf Khan, Terry Rafferty, Tom Shaw
Chattanooga WorkSpace invited all local artists in the Greater Chattanooga area to apply to participate in our Juried Locals Only Gallery Show. The jury chose over 40 artists from the Greater Chattanooga Area to show their amazing works. Gallery Show Opening is Friday, June 7th during our Bring on the Heat ~ Open Studio Nights from 5:30 pm - 8:30 pm.
We invite everyone to come out to see the depth & breadth of Chattanooga's creative community!

This Free gallery opening will also feature 4 floors of creatives studios open to explore, live demos, & lots of local art for purchase. Come explore & meet some of the best local artists Chattanooga is lucky to have!