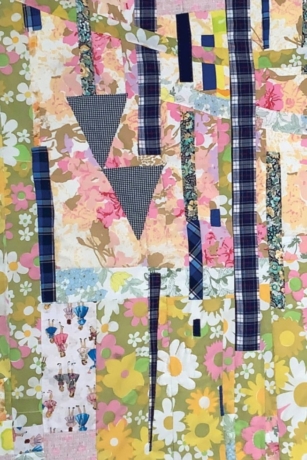 Exhibitions
JESSICA WOHL: IMAGINING MATRIARCHY
Jessica Wohl
The University Art Gallery of the University of the South is delighted to present Imagining Matriarchy, an exhibition of vibrant, dazzling quilts by artist and Associate Professor of Art Jessica Wohl.
In Imagining Matriarchy, Wohl works with brilliantly colored found fabrics to build complex, celebratory compositions. Her quilts evoke suns, seeds, dense forests and flags. Found fabrics with past lives are carefully and painstakingly hand quilted, hundreds of hours of labor made visible in pieces of cloth and thread. Contrasting colors and tones – pinks, reds and blues, yellows and black – are combined in compositions that reimagine established associations. With these quilts, associated with comfort and women's labor, Wohl "envision(s) what a matriarchal society might feel like."
Please join us! Jessica Wohl will speak about her work on October 28 at 5:30 p.m. in Guerry Auditorium. Reception to follow.
Come early! The talk will be preceded by an Arts Amplified performance featuring dance and percussion in the University Art Gallery, at 5 p.m.!