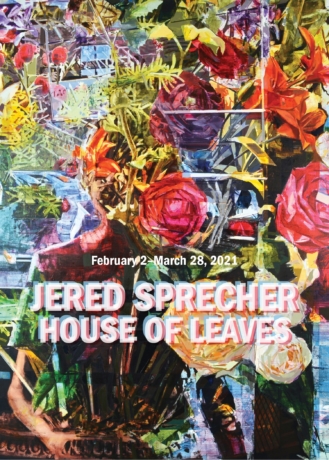 Exhibitions
JERED SPRECHER: HOUSE OF LEAVES
Jered Sprecher
The University Art Gallery is delighted to present Jered Sprecher's House of Leaves, an exhibition of paintings and drawings that play with technologies of representation and the mediation of experience. Visual information fleetingly encountered is caught, mulled over, and reworked. Images of birds, plants, flowers, and natural light, glimpsed through phones and on tablet screens or in banal stock photographs, is translated into intensely vibrant, gorgeous paintings that hover "in the sliver of space between abstraction and representation" and demand attention and contemplation. House of Leaves will be on view in the UAG from February 2 through March 28, 2021.
To protect the health of those on and off our campus, in-person visits to the exhibition are reserved for students, faculty, and staff of the University already on campus.
For those not one campus, House of Leaves will be shared remotely by means of a video tour and slideshow, available on this site after February 2, 2021.