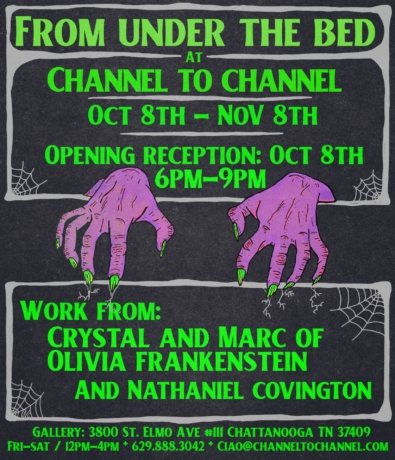 Exhibitions
OLIVA FRANKENSTEIN + NATHANIEL COVINGTON: FROM UNDER THE BED
Oliva Frankenstein, Nathaniel Covington
With Spooky Season upon us, take a dive into the depths of the underworld lurking beneath your bed. From Under The Bed features the work of two Tennessee-based artists- Nathaniel Covington and the duo known as Olivia Frankenstein. Both artists create amusing renderings of morbid creatures and curiosities.
The artist duo Marc Vargas and Crystal Chan, known as Olivia Frankenstein, have been making spooky collectibles and textiles for their online Etsy shop for over 10 years. Punctuated with daggers and disfigured Disney characters, their work combines imagery of pop culture with the macabre to create a uniquely haunting genre of work.
Nathaniel Covington's work is inspired by the monsters of Creature Feature movies, comic strips, trading cards and toys. His style can be described as 21st century folk art starring non-human terrestrial or extraterrestrial villains. Nathaniel's practice spawns monsters that creep between his 3-D papier-mâché works and his 2-D paintings. A self-taught and imaginative individual, Covington begins his process with a pencil sketch on paper, then brings his monsters to life in the form of a painting on canvas, sculpture, or large-scale mural; many of which can be found clutching the walls of Nashville businesses.