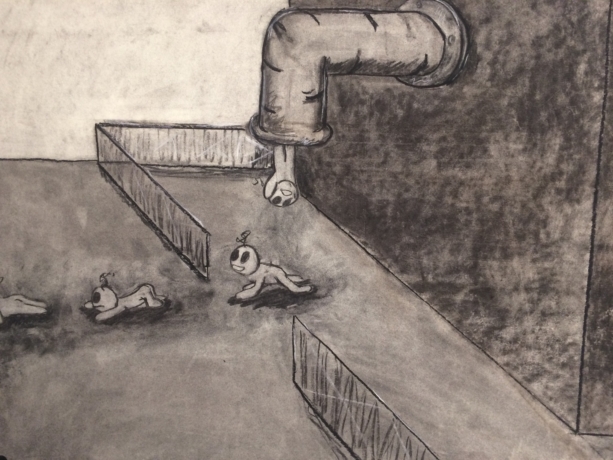 Exhibitions
FOUNDATIONS/ANIMATIONS
The UTC Department of Art presents Foundations / Animations 101 one-minute hand-drawn charcoal animations created by majors enrolled in "Expanded Drawing" at the NEW ConTemporary Cress Gallery in downtown Chattanooga.
Drawing is a non-verbal thinking process. One of the things about charcoal drawing is that it is instantly alterable - you can change it as quickly as you can think. One wipe of a cloth and the image disappears or is smudged and you can rethink it. The flexibility of drawing is important. There's an immediacy in drawing, of thinking in drawing, which is vital. -Artist William Kentridge on charcoal drawing.
This exhibition features 101 one-minute hand-drawn charcoal animations created by UTC Department of Art majors enrolled in 2019's "Expanded Drawing", a required course in the Foundations curriculum. Previous to this point in the program, students worked to create individual drawings that are separate from time and have a static composition. Over the course of the spring semester, foundations students complicate and evolve their ideas about drawing through various assignments including the creation of a one-minute hand-drawn animation in charcoal.
These animations represent a considerable effort as students develop an idea, plan and develop a personal process, and complete the majority of their required individual drawings on their own outside of the class. Students are provided space and equipment to develop the animation in the studio classroom. Students pin their drawing to the wall, place a camera on a tripod, draw one frame, and photograph it, and then repeat this process 600 times over the course of the assignment. Then students import the images into Adobe Premiere, add sound and music, and export their finished animation.
For this exhibition, the animations have been divided into small groups each shown on one of seven flat screens located through the full length of the gallery. Six of the eight animation scene progress drawings by Quin Crumb, whose 2018 animation received the People's Choice Award, are included to clarify the process for the viewer.