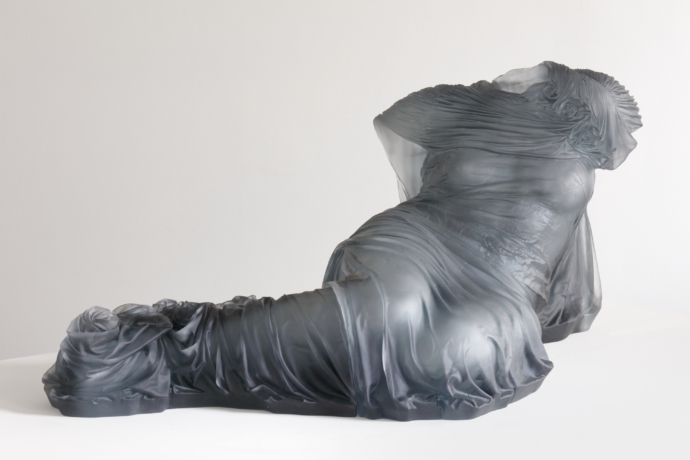 Exhibitions
EMBODIED BEAUTY: SCULPTURES OF KAREN LAMONTE
Karen LaMonte
The Hunter Museum is pleased to host a solo exhibition of works by Karen LaMonte exploring the tensions between body and spirit, perfect and imperfect beauty, permanence and temporality, east and west. Embodied Beauty: Sculptures of Karen LaMonte brings together Nocturnes and Floating World, two series of life-size evening gown and kimono sculptures in cast glass, clay, bronze and iron. Organized by the Hunter Museum, Embodied Beauty will be on view from Friday, May 25 to Sunday, September 2, 2018, with an opening reception and artist presentation on Thursday, May 24 at 6pm.

Haunting, shadow-colored dress figures, the Nocturnes reflect LaMonte's interests in classical Greek and Roman figures. Made from a unique glass formula created by the artist and designed using live models, the Nocturnes seem to drape and cling like actual fabric, while suspended, unworn, in mid-air. The series was inspired by the Nocturne musical compositions of John Field (Irish, 1782–1837) and Frederick Chopin (Polish, 1810–1849), as well as the Nocturne paintings by James Abbott McNeill Whistler (American, 1834–1903).

Floating World emerged from LaMonte's residency in Kyoto, Japan, and involved a thorough exploration of Eastern concepts of beauty. While in Japan, LaMonte explored all aspects of the kimono—from weaving and construction to ceremonial function and historic meaning. For the kimono pieces, she built a mannequin based on biometric data, selecting the measurements for the 50th percentile of 40-year-old Japanese women in the year 2000. LaMonte's kimono sculptures manifest a Japanese cultural norm in which the human figure is depleted of all curves, becoming an idealized cylindrical form.

Exquisitely detailed, LaMonte's ethereal sculptures captivate the viewer with their beauty, but also challenge assumptions. The female forms in these works, absent, yet implied, raise questions about the role that clothing plays in society, and the impact it has on women's lives, whether in the east or the west.

HUNTER COLLECTION CONNECTION

The Hunter Museum's permanent collection includes Karen LaMonte's Reclining Dress Impression With Drapery, a clear glass sculpture created in 2006, purchased by the Hunter in 2008 and on view now in the Hunter's East Wing galleries. One of three identical castings, the sculpture can also be found in the Smithsonian American Art Museum's permanent collection.

ABOUT KAREN LAMONTE

Originally from New York, where she was born in 1967, Karen LaMonte has spent more than a decade in the Czech Republic challenging herself and the limits of cast glass to produce life-size dresses—and now kimonos—emptied of inhabitants. Since her graduation in 1990 from the Rhode Island School of Design, LaMonte has explored figuration through the motif of clothing as a stand-in for the human.

Among the many prestigious awards LaMonte has received are Corning Museum of Glass/Kohler Arts Center Joint Artist-in-Residence Program; Jutta Cuny-Franz Memorial Award; Virginia A. Groot Foundation Recognition Award; UrbanGlass Award for New Talent in Glass; Creative Glass Center of America Fellowship; Louis Comfort Tiffany Foundation Biennial Award; a 1999-2000 Fulbright fellowship, which allowed her to first work in the Czech Republic; and a Japan-United States Friendship Commission, National Endowment for the Arts Creative Artists Exchange Fellowship, which made possible a residency in Japan over the course of 7 months to research kimonos and produce a series based on the kimono.

Her work is included in many museum collections, including the Corning Museum of Glass, the Smithsonian American Art Museum and the Renwick Gallery, the deYoung Memorial Museum, Palm Springs Art Museum, Musee des arts decoratifs, National Gallery of Australia, Chrysler Museum of Art, Toledo Museum of Art, and the Museum of American Glass.
---
image: Karen Lamonte (b. 1967), Reclining Nocturne 2, 2016, Cast glass, 22 x 53 x 26.5 inches, Courtesy of the Artist