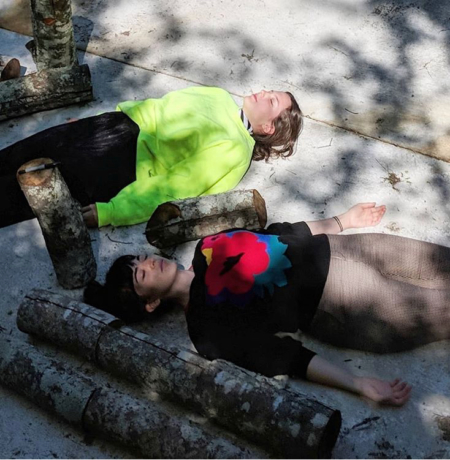 Exhibitions
DILUTIONS OF GRANDEUR
Eleanor Epstein
Charlotte Acevedo
A collaboration featuring Eleanor Epstein and Charlotte Acevedo. The two created an installation containing three columns, resembling telephone poles, made out of logs with layers of pictures of the Chattanooga area stampled onto them. Each column is a different height and positioned off centered so the audience is confronted with them as they enter the gallery.
---
Eleanor Epstein is an interdisciplinary artist who casts a critical glance on the residue of antebellum ideals permeating women in Eastern Tennessee. Inspired by a childhood of valleys, mountains, and etiquette in southern Appalachia she pursued a BFA at the Rhode Island School of Design. Believing the light on the land to be the source of magic she hunts for dreamscapes while driving every day. She has exhibited in Rhode Island, New York, and Tennessee and currently resides paces away from the Tennessee River.

Charlotte Acevedo is a photo and media based artist currently residing in Los Angeles, California. She received her BFA at Rhode Island School of Design.