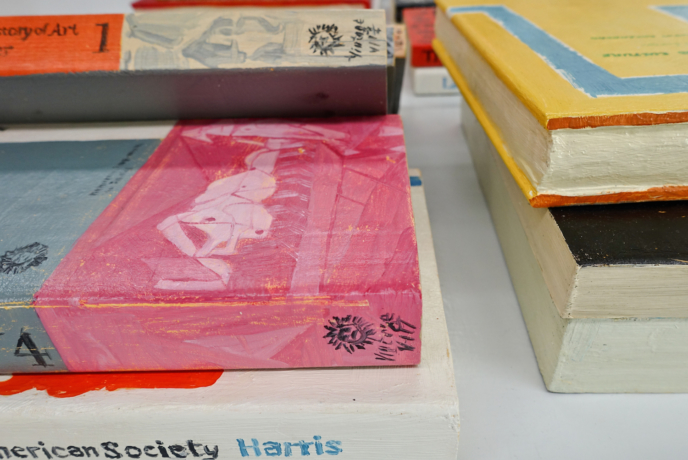 Exhibitions
CONRAD BAKKER: "UNTITLED PROJECT: THE ROBERT SMITHSON LIBRARY AND BOOK CLUB" & "UNTITLED PROJECT: THE CRYSTAL LAND"
Conrad Bakker
UTC Spring 2017 Diane Marek Visiting Artist - Conrad Bakker: Untitled Project: The Robert Smithson Library and Book Club & Untitled Project: The Crystal Land

Conrad Bakker makes carved and painted sculptures of everyday objects and positions them in a wide variety of contexts to reveal and critically comment upon the political economies and relational networks between persons and things. This exhibition features two ongoing bodies of work, Untitled Project: Robert Smithson Library & Book Club and Untitled Project: The Crystal Land both based on the personal library and geologic interests of the late, conceptual artist and land art pioneer, Robert Smithson.
Bakker's Public Lecture is Tuesday, February 7, 5:30pm, UTC Derthick Hall, Room 201, 624 Vine Street, followed by the exhibition opening reception at the Cress, 752 Vine Street.
Currently a Professor of Art at the University of Illinois, Urbana Champagne, Conrad Bakker received a Bachelor of Fine Arts from Calvin College, Grand Rapids, MI., and a Master of Fine Arts from Washington University, St. Louis, MO. Among his awards are grants from the Creative Capital Foundation, The Illinois Arts Council, and the Joan Mitchell Foundation. His work has been the subject of articles and reviews in publications such as Frieze, Contemporary, Flash Art, Art Forum, ArtUS, Art Papers, Sculpture, UOVO, the Chicago Tribune, the New York Times, and the New Yorker magazine. Over the past two decades Bakker's work has been shown in numerable exhibitions including those at the Tate Modern (London), Galerie Analix Forever (Geneva), Farbfabriken Center for Contemporary Art and Architecture (Stockholm), the New Museum of Contemporary Art (New York City), the Renaissance Society of the University of Chicago; Art in General, Artist's Space, and Apex Art (all New York City), Lora Reynolds Gallery (Austin, TX.), the Contemporary Art Museum Houston, the Massachusetts Museum of Contemporary Art, in mailboxes everywhere, and on his own front lawn.