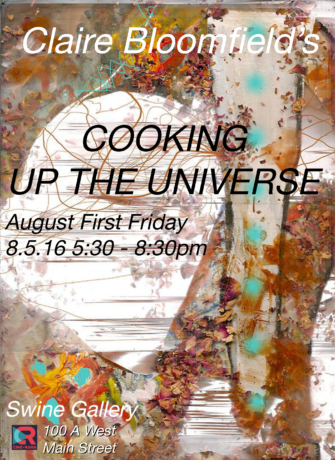 Exhibitions
CLAIRE BLOOMFIELD'S COOKING UP THE UNIVERSE
Swine / 100 W. Main August 5, 2016 - August 20, 2016
Claire Bloomfield
Swine is extremely proud to present Claire Bloomfield for its first solo exhibition! Claire will be installing a wide range of work including photography, sculpture, live performance, and video work. The show will be up through the 20th (Facebook won't allow events longer than 2 weeks).
This event is free and open to the public!
Opening reception is First Friday, August 5, from 5:30 - 8:30pm. There will be light refreshments available.
Claire Bloomfield is a local contemporary photographer originally from Nashville, TN. She received her BFA in photography from UTC in 2014. After spending time in India and Sundog Eco Village in Montana she began to make work based around Western food culture and ritual practices of the East. Her photographs are created using a multi media processes. She cultivates sculptures with organic and synthetic materials, sometimes even growing her own plants to make work. She uses her desktop scanner to create unified painterly photographs. She views her work as altarpieces that are created, scanned and erased. The work lives in the moment, and her photographs are traces. She believes it is important to have a process in photography. "Darkrooms are becoming outdated and technology is on the rise. We must use technology to our advantage as artists, but lets not forget those eureka moments upon developing a canister of film. These are moments magic and creation as one."
See and hear more about the artist and her work here:

https://www.instagram.com/seac...