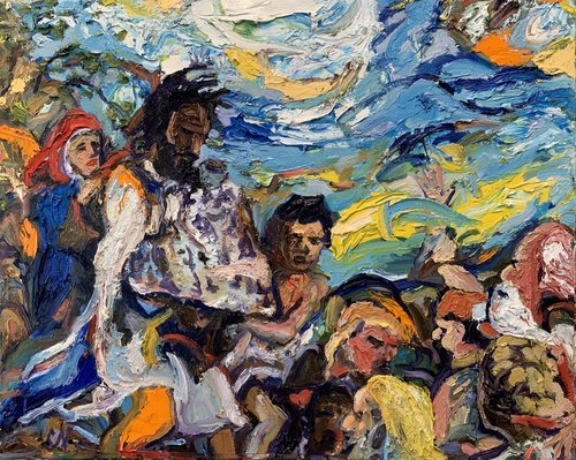 Exhibitions
CHARLIE NEWTON: THE BLACK BIBLE
Charlie Newton
We don't need to re-write the Bible. We need to reconstruct our concepts percepts and precepts of the Bible as written. History, as well as Bible precepts and percepts, are for the most of majorly European influences.
The distillation of the historicism of the Bible has been dramatically and is being dramatically changed and reformed due to the diaspora peoples (in America) awakening to the false narratives put forth by white supremacy.
I am interested in the interface of young black American youth influencing the entire world even Africa. The diaspora sent culture through the furnace of American and European white supremacy and racism. But something unique happened. The slave trade proved to be not only a fiery furnace but a melting pot or refiners fire that God meant to elevate civilization to where it's headed now (in the positive sense; the negative forces and ideologies espoused by demonic powers of nationalism and supremacy are still at work in the west).
Not only are black Americans and black American culture and aesthetics influencing world culture but African culture as well. What does this mean? It means that Africa is enlarging itself. So we must eject European imagery concepts, processes, and precepts of Jesus and the Jewish people in support of an African version of biblical historicism.
Jesus spoke Aramaic and the terms Near East and Middle East were created by Europeans in the conquest of African nations.
In light of the first man being born in Africa or on the African continent, it changes my practice in the light of world history. I must allow my mind to be open to receive Spiritual information and information that will connect me back to my creator and I must open my eyes and see what's already there.
The first man was made from the dust of the ground. What color is dirt? Jesus is a direct descendant in his humanity from Adam and his divinity from God. So indeed I was made in the image of God and I will celebrate that and I will pronounce that and proclaim that and preach that and prophesy that and more importantly, I will paint that.
---
Charlie Newton has been painting professionally for over 50 years having received a BA from the University of Tennessee at Chattanooga, TN in 1975 and an MFA from Old Dominion and Norfolk State Universities in 1987.
He has exhibited in London, Italy, New York, and throughout the Southeastern United States. His works hang in public and private collections all over the world including The Paul R. Jones Museum, University of Alabama, Tuscaloosa, AL, Maloney Art Gallery, Annunciation Center, College of Saint Elizabeth, Morristown, NJ, University of Georgia, Athens, GA, the Norfolk Zoo, Norfolk Virginia, The Beatties Ford Road Library, Charlotte, NC, and the Hunter Museum of American Art, Chattanooga, TN.