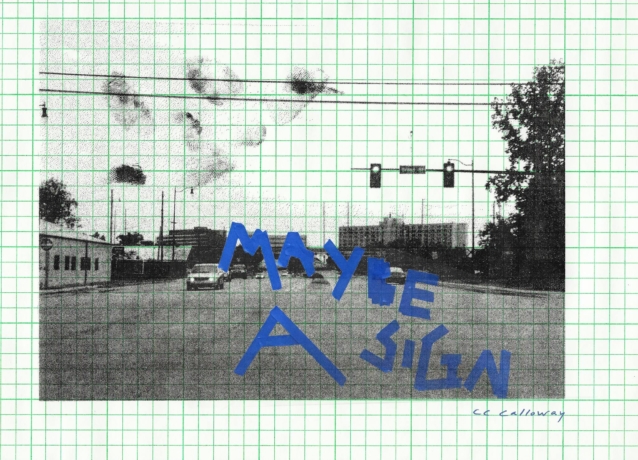 Exhibitions
CC CALLOWAY: MAYBE A SIGN
CC Calloway
The Apothecary is pleased to present MAYBE A SIGN, new work by CC Calloway. Please join the artist for an opening reception on Thursday, October 12 from 7-10 p.m. at 744 McCallie Avenue Chattanooga, Tennessee.

CC's multifaceted installation calls into question how art and empathy can function in a time when information and resources are so easily created and expended. In MAYBE A SIGN, CC creates poems, sculptures, and Risograph prints inspired by every-day, mundane spaces: the highway and the office.

CC Calloway is a 2017-2018 WonderRoot Walthall Fellow and a recent alumna of the Lamar Dodd School of Art where she studied Printmaking and Book Arts. She has written and self-published four books of poetry and is in the process of writing and designing her fifth, Long Lasting Chew.