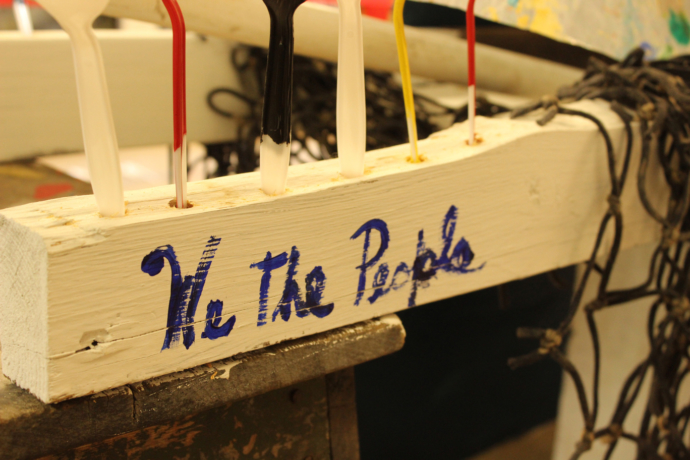 Exhibitions
BRENT WESTON: THE BAILERS? THE JAIL (H)ER! AND THE ARC OF FOG HORNS
Brent Weston
The Association for Visual Arts (AVA) will host a solo exhibition of recent works by local artist, Brent Weston, November 4-22.
Brent Weston earned his Bachelor of Fine Arts degree in Painting and Drawing from the University of Tennessee at Chattanooga. Brent's work has been exhibited on the streets throughout Western Europe, and in galleries in Florida, Georgia, North Carolina, and Tennessee. In 2011, he was selected as Quadrant's Distinguished Artist. For over ten years, Brent's art has been featured in the annual Project Interconnections fundraisers in Atlanta. For further information on Brent, feel free to visit his website, www.brentweston.com.
For much of Brent's life, he has been diagnosed bipolar/schizoaffective. Recently, he has noticed similar destabilizing and polarizing tendencies between his illnesses and the political climate found in the USA today. In this November's exhibition at AVA, he has embarked to expose these polar/schizoid remnants found in lingering postmodern culture. He has attempted this with a range of emotion, from despair to hope.
"As one who has been diagnosed bipolar, and sometimes schizoaffective, I continually face words used to describe not just mental disorders, but the lingering postmodern and aggressively, informational culture at large," says Weston. "In the shallow and deep waters of iconic political discourse, I steer with my clinical diagnoses into an understanding of the social processes of postmodern bipolarity and schizophrenia. These paintings "flesh out" fragmented, split, uncertain, opposite, and contradictory memories, all mixed with questions of future leadership in the US."
Weston received the opportunity for a solo show by winning Best In Show in last winter's AVA Juried Members Exhibition. Applications for that exhibit were accepted from any current AVA member, and juror, Giang Pham, selected artworks. This cycle of a juried member show culminating in a solo showcase of the Best In Show award winner is a tradition that AVA plans to continue with the 2016 Juried Members Exhibition in December.