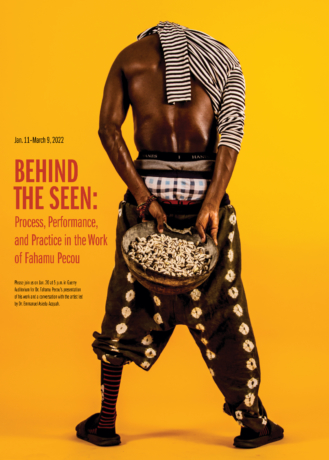 Exhibitions
BEHIND THE SEEN: PROCESS, PERFORMANCE, AND PRACTICE IN THE WORK OF FAHAMU PECOU
Fahamu Pecou
Performance - specifically the performance of Black masculinity - is at the heart of Atlanta-based artist Dr. Fahamu Pecou's artistic practice, from inhabiting and toying with hip-hop personas to reimagining and performing Egungun masquerade - an Ifa religious ritual from West Africa.
Throughout his work, Pecou manipulates roles and stereotypes in order to question how Black masculinity and identity are imagined, circumscribed, and read. Associations of high and low are reversed, and the conventions and symbols of pop culture, of Trap music, of Yoruba culture, of academia, are combined to thwart expectations. Pecou's compelling images invite and challenge the viewer, and work, in his words, "to subvert the gaze," that is, to make us think about our own act of looking.
Carefully orchestrated photo sessions, planned in collaboration with photographers, stylists, make-up artists, and models, are the starting point for each of his projects. Pecou performs the central role. His face is most often averted or obscured - with cotton, or sunglasses, or the crown of an oba. The artist is not the subject of the photographs. Instead, he uses his body to make visible the role he plays. These photo sessions yield hundreds of source images that become the foundation for Pecou's drawings and paintings. Each rendering of an image in paint and graphite becomes another performance.
Behind the SEEN: Process, Performance, and Practice in the Work of Fahamu Pecou includes images from multiple bodies of work, including Trapademia, Trapademia II: Lit, Memory, and Praise Songs. It is the first public exhibition of reference images from Pecou's studio sessions, featuring never-before-seen photographs alongside paintings, and offering a glimpse into the artist's process.