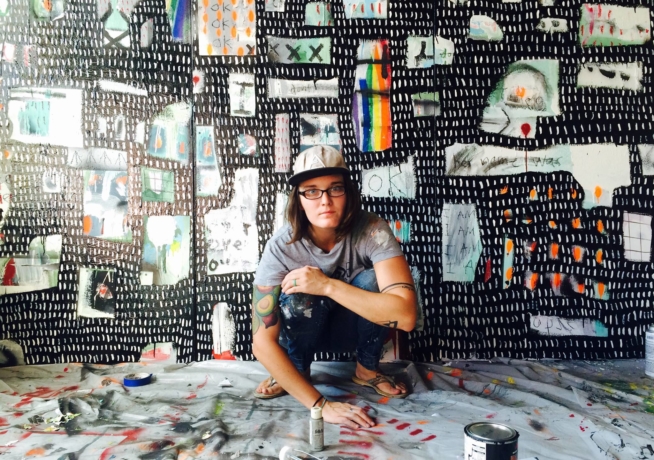 Exhibitions
ASHLEY HAMILTON // FRAGMENTED DESIRE
Swine / 100 W. Main August 26, 2016 - September 10, 2016
Ashley Hamilton
Swine is excited to announce it's second solo-exhibition: local artist Ashley Hamilton!
We will have an opening reception on Friday, August 26th, from 5:30 - 8pm. There will be a lecture by the artist starting at 6:30pm. Light refreshments will be provided; this event is free and open to the public!
The show is up through September 10th for Gallery Hop!
Ashley Hamilton is an interdisciplinary artist from Chattanooga, TN. A native of Nashville, Ashley began her art education at Nashville School of the Arts. She spent a year studying abroad at Queensland College of Art in Brisbane, Australia, where she focused mainly on printmaking and installation. She received her BFA in drawing and painting from University of Tennessee in Chattanooga.
Ashley's work exists in the liminal space between struggle and play. Her work often explores issues regarding the quest of self-identity, focusing on psychoanalytical notions such as displacement, fragmentation, desire, and repetition compulsion. In her paintings, the viewer is confronted with an overwhelming amount of marks from compulsively painting on top of paintings and then peeling back through the various layers. There are feelings of mania and anxiety; meditation and trauma; exposure and hiding. Through her ritualistic studio practices, Ashley's work is both cathartic and alarming.
You can view more of Ashley's work at her websites:
https://ashleyhamiltonart.carbonmade.com/
http://ashleyhamiltonart.tictail.com/