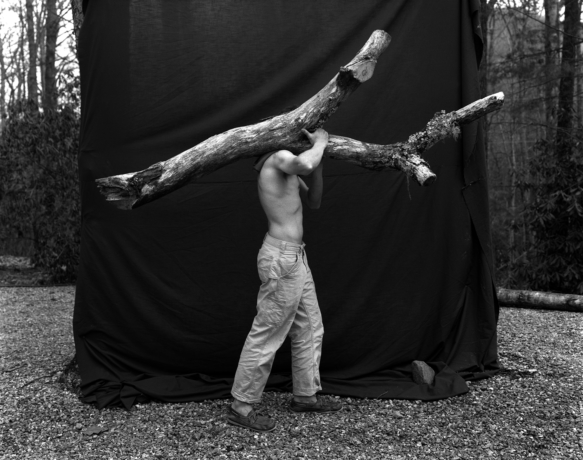 Exhibitions
ANDERSON WRANGLE: A HAND'S WIDTH
Anderson Wrangle
The Carlos Gallery in the Nabit Art Building at the University of the South is
pleased to present a hand's width, an exhibition by artist Anderson Wrangle.
Wrangle is an artist and Associate Professor at Clemson University. Originally from Houston, Texas, he is fascinated with the landscape, still life, tableau, ephemeral sculpture and performative gestures. He brings these forms together to play within the ideas of nature and art to achieve a new sense of order.
a hand's width continuously references "work" as a metaphor for the process of creation. His constructions and actions here are largely non-utilitarian, but provide for an interruption of our expectation and are a way of seeing something new. The objects in each of the images are made, the limitations being what can be achieved by Wrangle's hand, body and simple tools, such as the fulcrum. What happens in these works is a kind of serious play, an existential performance.
Work, thought, and control are all at the center of the ideas manifested in this series. The interruption of expectation and actual space, simply inverting things and creating a heightened sense of the presence of an object like a stone, a hammer, a limb or the body creates a possibility for something new.
Wrangle has exhibited at the Museu de Arte Moderna do Rio de Janeiro, FotoFest, Lawndale Art Center, and Rudolph Projects / Artscan Gallery, among many others. He has just completed a sabbatical during which he completed the work for this exhibition and work on several other long term projects. He has multiple research grants, including a 2014 CAAH Faculty Research Grant, a 2012 Clemson CAAH Seed Grant to pursue a collaborative photographic survey of the Savannah River, 2015, 2013, and 2012 Clemson Center of Visual Arts Faculty Research Grants, and a 2010 Clemson University Research Grant for his photographic survey of the Upper Savannah River Watershed. He was a finalist for the 2011 Clarence John Laughlin Award and was nominated for the Baum Award, and the ARTHouse Texas Prize in 2008. His work is in the collection of the Museum of Fine Arts in Houston, the Museu de Arte Moderna do Rio de Janeiro/Colecao Joaquim Paiva, and many private collections, including that of the American writer Ann Beattie.