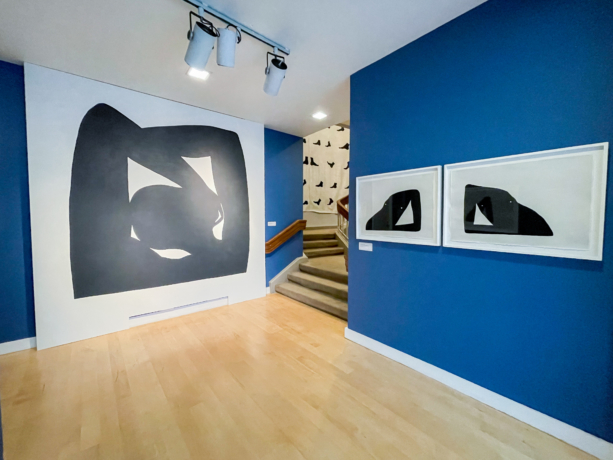 Exhibitions
AMY PLEASANT: PASSING THROUGH
Amy Pleasant
Birmingham-based artist Amy Pleasant's Passing Through, a series of large-scale graphic canvases, is now on view in the historic mansion stairwell. Pleasant, whose work has been recognized by such prestigious organizations as the John Simon Guggenheim Memorial Foundation and Joan Mitchell Foundation, creates in a variety of media, ranging from painting and drawing to printmaking and sculpture. No matter the medium, the human figure is a constant in her work.

"Amy Pleasant's works activate the stairwell space, welcoming visitors to the mansion and setting the tone for themes and subjects they'll encounter in the early American galleries on the mansion's second and third floors," notes Natalie Mead, Hunter Museum Curator who organized Passing Through. "Although deceptively simple, Amy's graphic silhouettes are rooted in traditions of early American portraiture and contemporary themes of identity and human behaviors."
Pleasant's simple renderings of parts of the body are done in a calligraphic style and reveal an entire form out of one or two simple brush strokes and the surrounding negative space. The minimalist, repetitive compositions blur the line between figuration and abstraction, inviting viewers to consider the history of the figure in art and how it has shaped our understanding of human experience.
As it connects the contemporary wings of the museum to the historic mansion, Passing Through allows visitors to experience the passage in a new way and sets the stage for new perspectives in the mansion galleries. Visit the Hunter soon to experience the stairwell gallery and all the other fresh takes the Hunter has to offer!