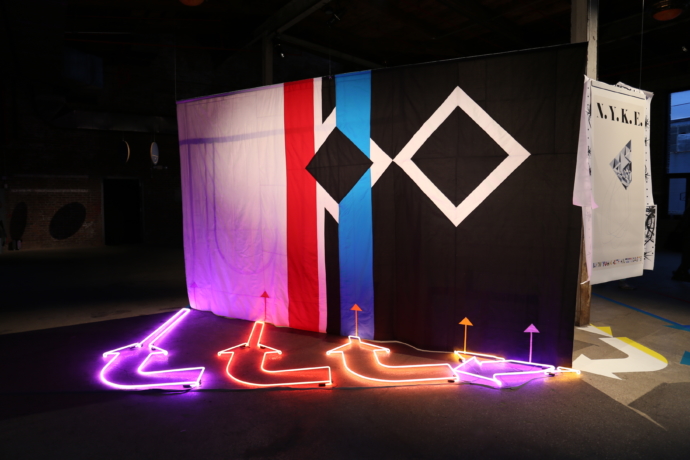 Exhibitions
SEED SPACE + STOVE WORKS PRESENT: ALISON O'DANIEL + GREG POND + BANNING BOULDIN + NEW DIALECT + CESAR LEAL
Alison O'Daniel, Greg Pond, Banning Bouldin, New Dialect, Cesar Leal
Seed Space + Stove Works present Melt My Heart But Spare My Soul feat. Alison O'Daniel (Los Angeles, CA), Greg Pond (Sewanee, TN), Banning Bouldin + New Dialect (Nashville, TN), and César Leal (Sewanee, TN).
Organized by:
Mike Calway-Fagen (Stove Works), Brian + Carolyn Jobe (Seed Space)
About:
Alison O'Daniel (Los Angeles, CA)
Combining film, performance, sculpture, and installation, Alison O'Daniel's work is structured as a call-and-response between mediums. Cinema, performance, sound-dampening textiles, sculptures, mobiles, and large-scale installations foreground the deaf and hard of hearing experience through process, collaboration, and material. O'Daniel collaborates with composers and musicians in order to highlight the loss or re-creation of information as it passes through various channels, and to build a visual, aural, and haptic vocabulary as a means to tell stories inspired by events that are both historic and quotidian. O'Daniel has presented solo exhibitions at Art In General, New York; Samuel Freeman Gallery, Los Angeles; Centre d'Art Contemporain Passerelle, Brest, France and an upcoming solo show at Shulamit Nazarian Gallery in Los Angeles. She has presented performances at the Hammer Museum, Knockdown Center, and Art Los Angeles Contemporary. She is included in the Hammer Museum's 2018 Biennial 'Made in L.A.' and a group exhibition The Infinite Ear at the Garage Contemporary Art Museum. Writing on her work has appeared in The New York Times, Artforum, Los Angeles Times, and ArtReview. She has received grants from the Rema Hort Mann Foundation, Center for Cultural Innovation, Art Matters, Franklin Furnace Fund, and California Community Foundation. O'Daniel received a BFA in Fibers and Material Studies from the Cleveland Institute of Art, a Post-graduate Diploma of Fine Art from Goldsmiths College, University of London, and a MFA in Studio Art from UC Irvine, CA.
Greg Pond is a graduate of The University of Georgia and earned his MFA from The University of the South, Sewanee. He is currently on faculty at The University of the South, Sewanee and has been awarded Tennessee State Individual Artist grant, is a recent Kennedy Fellow at the University of the South, and has been an artist in residence at the F+F School of Art in Zurich and the Burren College of Art in Ireland. Greg also works as an independent writer, curator, and lecturer with recent projects and events hosted by the Egyptian Ministry of Culture, Fivemyles Gallery in Brooklyn, Delta Axis in Memphis, the Frist and Cheekwood Museums of Art in Nashville.
Banning Bouldin (Nashville, TN)
Banning is a Nashville native and received her BFA in dance from the Juilliard School in 2002. She spent the next eight years working internationally with some of her field's most renowned companies, dancers, and choreographers: The Cullberg Ballet of Sweden, Mats Ek, Johan Inger, Hubbard Street 2, Lar Lubovitch Dance Company, Sidi Larbi Cherkaoui, Alexander Ekman, Buglisi/Foreman Dance, Wen Wei Wang, and others. She was a soloist, master teacher, and rehearsal assistant during her tenure with Aszure Barton and Artists from 2003-2010. In 2007 she began to develop and teach her own syllabus in Paris at the Theatre de la Danse and Studio Harmonic. That year she joined Rumpus Room Dance, based both in Portland, Oregon and Goteborg, Sweden, where she had the opportunity to co-create multiple site-specific installations. She and her Rumpus Room colleagues were nominated one of Dance Magazine's "25 to Watch" in 2010.
In 2012, Bouldin formed the collective New Dialect in Nashville, TN, which is in its 5th season. Awards include Tennessee Dance Association's Margaret Martin Award, Springboard Danse Montreal and Northwest Dance Project's Pretty Creative competitions, Tennessee Arts Commission Individual Artists, Fellowship, and a nomination for United States Artists Fellowship.
New Dialect is a non-profit contemporary dance collective and training program based in Nashville. Their mission is "to advance the evolution of our art form by inspiring people of all social backgrounds, cultures, and generations with authentic, high-quality dance workshops and performances that connect us more deeply to ourselves and each other. To this end, we strive to be a resource for choreographers, dancers, and teaching artists in need of a fertile and supportive environment in which to deepen their own movement research." Designed to be a research lab, New Dialect aims to facilitate an environment where movers of all kinds can explore the wide variety of groundbreaking movement vocabularies that exist in the world of contemporary dance. Having greatly benefited from her training at Juilliard, founder and artistic director Banning Bouldin now endeavors to foster a fertile and supportive environment, where people are given "tools not rules" that allow them to connect deeply with their bodies as they learn how to interpret a broad range of choreographic languages with skill and authenticity.
Colombian born conductor and musicologist César Leal is currently the artistic director and conductor of the Sewanee Symphony Orchestra in Sewanee, TN, where he also serves as faculty member of the Sewanee Summer Music Festival. He has led ensembles across the U.S., Panama, Colombia, France, and the Ukraine. Maestro Leal's activities as a Conductor and Musicologist often intersect and his interest in inter-disciplinarity and collaboration often inform his scholarly and artistic projects. In collaboration with the Lexington Ballet (KY), he directed a full-stage production devoted to Diaghilev's Ballet Russes (2013). This tribute included performances of Stravinsky's Rite of Spring, Chopin's Les Sylphides, and Debussy's Afternoon of a Faun. In 2011 and 2012 he was the assistant director of the Congrés Mondiale d'Écologie Sonore (Switzerland), an event devoted to music research and performance. Leal's program for his debut with the Panama National Symphony Orchestra in July 2014 featured works from the fin-de-siècle (1880-1913) that bridged European and Latin American musical traditions. Most recently (2017), Leal collaborated with the American Spiritual Ensemble in a concert version of George Gershwin's Porgy and Bess. In 2019, he will collaborate with baritone Reginald Smith Jr., Metropolitan Opera National Auditions Winner (2015) for a performance of Pilgrimage, a rarely performed Cantata for orchestra and baritone, by American living composer Carlisle Floyd (b. 1926). He has recorded works by several Latin American composers and has presented scholarly papers in the U.S., Canada, Greece, Japan, Italy, France, England, Peru, Colombia, and Switzerland.
---
image: Alison O'Daniel, Room Tone, Art in General New Commission, Presented in collaboration with the Knockdown Center, Maspeth, NY, March 26 - May 8, 2016. Courtesy the artist and Art in General. Photo: Charles Benton
---
Soft Opening: October 12, 6:00-9:00pm
Artist Reception + New Dialect Performance: October 27, 6:00-9:00pm, performance at 7:00pm
Gallery Hours: Thursday + Friday, 3:00-7:00pm; Saturday + Sunday, 12:00-7:00pm
---
Curatorial Brief:

Communication isn't always, or even mostly, achieved by words and mouths. Plateaus of understanding are found when gestures project meaning through fingertips and form, translating what was dark into something less so. Language takes many shapes, some more stable than others. Similarly, silence bears equal significance to sound, with its effect, at times, deafening. This claim is substantiated in Colin Kaepernick's kneel, Tommie Smith and John Carlos' 1968 Olympic podium appearance, Tiananmen Square, and also every gap between every utterance. Absolute silence is also a state that many of us have never experienced but some hear indefinitely. And still further, may not exist at all.
Melt My Heart But Spare My Soul brings together seemingly divergent cultural producers exploring sound and noise, language and movement, bodies and structure, communication and collaboration, affective conveyance, and inaudible exchange: Alison O'Daniel, a Los Angeles-based sculptor and filmmaker, will be joined by artist and filmmaker, Greg Pond and his collaborator, dancer and artistic director, Banning Bouldin. Cesar Leal, a conductor and musician, working with vocalist, Jessica Usherwood have contributed to the aural anatomy of this multi-modal installation.
---
Events
Opening Night: October 12, 6:00-9:00pm
Sideshow Slideshow: October 19, 7:00-9:00pm
Sideshow Slideshow brings together a dynamic group of creative individuals, enthusiastic volunteers from an array of pursuits, to share their work. Lasting only seven minutes, each participant's presentation is a compelling glimpse into their practice, interests, and production. This is a rare opportunity to find out what people are up to and become part of the expanding creative network in Chattanooga.
Kids Workshop with C-Grimey Oct 20, 1:00-3:00pm
Reading Group: October 14, 21, + 28, 2:00-4:00pm
Join Stove Works and guests for lively group discussions over readings that were greatly influential to the exhibition's development. These texts have been pulled from books such as: Listening to Noise and Silence by Salome Voegelin, Spell of the Sensuous by David Abram, The Community of Those Who Have Nothing in Common by Alphonso Lingis, and Heart Into Art: Interviews with Deaf and Hard of Hearing Artists.
New Dialect Performance + Artist Reception: October 27, 6:00-9:00pm, performance at 7:00pm
In the final weekend of "Melt My Heart But Spare My Soul", New Dialect will be performing an original dance on which Guncotton, the collaborative work by Greg Pond, Cesar Léal, and Banning Bouldin, is based. They will be accompanied by a sound installation by composer Cesar Léal and vocalist Jessica Usherwood.
On October 27, there will be one half hour performance beginning at 7:00pm located at 917 E. 16th St. in Chattanooga.
About Guncotton:
Working from The Atlas of Novel Tectonics, by Jesse Reiser and Nanako Umemoto, Pond and choreographer Bouldin adapted the book's architectural theory to develop new works in dance, video, sound, and sculpture. Bouldin developed dances from the architectural concepts of form and texture from the text. Pond uses 3D scanning and video to record the dances. Musicologist César Leal conceptualized the acoustic space around the flexibility of the human voice and the possibilities of digital sound processing. Featuring a single source for all vocal materials (soprano Jessica Usherwood) helped connecting all sonic elements of the composition. The result of combining the sonic materials and spacing them intentionally across the performance space creates a sense of volume and movement—a sonic object in motion. This work is produced as sound, sculpture, moving and still images by interpolating the 3D recordings with software that the collective develops. Architectural conjecture becomes movement, becomes sculpture, sound, and image.