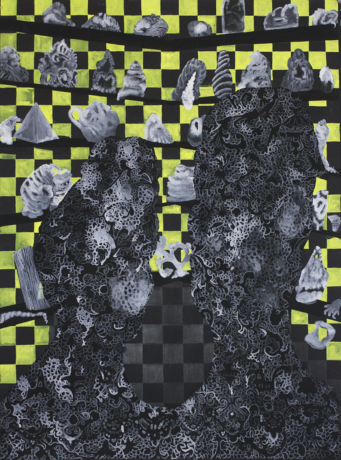 Exhibitions
ALEXIS CALLENDER
Alex Callender
University of Tennessee at Chattanooga assistant professor of painting and drawing Christina Vogel is pleased to present recent work by Alex Callender at Office Space. Directly informed by Dannielle Tegeder's Faculty Office project, through this initiative, Vogel invites artists to show their work in her UTC faculty office to create new opportunities to engage with contemporary art. It is in the spirit of connecting with artists from beyond of our region, with the aim to bolster our artistic community by building new relationships, that this project has been developed.
---
Bio | Alex Callender received her MFA from Massachusetts College of Art and Design. Callender's studio practice incorporates drawing, installation and painting, and considers themes of climate change and capitalism, cultural migrations, American mythologies, and historical materialism. Her work is held in the collection of the U.S. Art in Embassies Program and the Tides Institute and Museum of Art in Maine, and she has participated in national and international artist residencies and exhibitions. Callender is an Assistant Professor of Art at Smith College in Northampton, MA. https://alexcallender.com/
Artist Statement | In my current project I reconstruct samples of colonial image texts to explore representations of gender and capitalism, to consider the lineages of identity construction, reading historical texts in relation to current socio-political events. I remix 18th century Caribbean painting, with references from broader colonial imagery, Sci-Fi and consumer digital cultures. My process uses some variation of paint media, cut paper, and layered drawing techniques, distilling images through mapping software to develop work. I combine these ideas to create spatial constructions in which romanticized notions of the empire must exist next to the consequences that were produced as the present. I am interested in how hybridity is both literal and metaphoric gesture to create complex narratives and spaces.
---
Office Space is located on the campus of the University of Tennessee at Chattanooga, in Bretske Hall 203. Office hours are Monday 2-4pm or by appointment (christina-vogel@utc.edu), on view through February 28.
Artist Talk: Wednesday, February 20, 6pm at UTC's Fine Arts Center room 356
Office Space reception with the artist: Thursday, February 21, 11am-1pm
---
image: Estimated Stars and Matter, An Alternative Ending, 2019, mixed media on paper