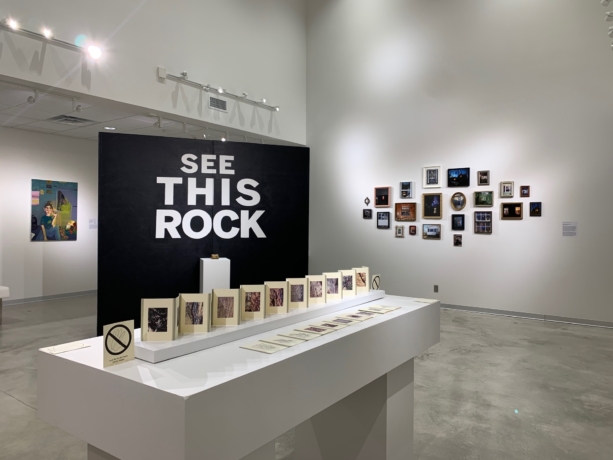 Exhibitions
2021 BFA SENIOR THESIS EXHIBITION
Ethan Brincefield, Mckenzie Brown, Alize Henson, Jamie Highlander, Katie Kricko, Ana Leonard, Brianna Litchfield, Ashlee Mellencamp, Lauren Nichols, Elizabeth O'guin, Emma Petrochko, Auriel Reel, Elizabeth Wheeler, Meagan Williams, Lauren Williamson, Larkin Cook, Quin Crumb, Kyle Cumberton, Aaliyah Garnett, Lacey Hamann, Jonathan Howe, Lilith Jackson, Priss Jenkins, Raegan Maddox, Noah Marlowe, Jennifer Morrissey, Stephanie Swart, Olivia Tawzer, Summer Tomes, Yves Tucker
2021 BFA Senior Thesis Exhibition
Show 1: April 6-16, 2021
Show 2: April 20-30, 2021
Online: utcbfa.com
The annual BFA Senior Thesis Exhibition is the capstone achievement of graduating BFA studio majors, comprised of a public exhibition and artist lecture series, which represents the culmination of two years of intensive artistic and intellectual development for the department's Bachelor of Fine Arts candidates. This year's class is a cohort of 30 artists from four BFA studio concentrations— graphic design, painting & drawing, photography & media art, and sculpture. The resulting diverse and conceptually challenging work is proof of how human connection and curiosity prevails through artistic inquiry.
Professor Andrew O'Brien, Interim Head of the Department of Art, says that "we as a Department are absolutely thrilled to see the return of the BFA Senior Thesis Exhibition to the newly renovated Fine Arts Center! This exhibition, and the years of work leading up to it, represent an important experiential learning opportunity for our students – one that mirrors contemporary practice, and emboldens them to take risks and discover their path forward as emerging artists and designers. The BFA class of 2021 has experienced an unimaginable amount of upheaval – racial violence, political division and insurrection amid a global pandemic – all while grappling with their own unique struggles, and as the Department spent over a year moving between temporary facilities across campus during the Fine Arts Center renovation. Their steadfast commitment to inquiry, community, and artistic practice is a model they can now reflect upon and use to gather strengthh for the next chapter in their lives and their careers."
Artist Talks:
Show 1 Artists: Thurs April 8, 5-7pm
Zoom link: https://tinyurl.com/bfashow1
Passcode: UTCBFA
Show 2 Artists: Thurs April 22, 5-7pm
Zoom link: https://tinyurl.com/bfashow2
Passcode: UTCBFA
---
2021 BFA Senior Thesis Exhibiting Artists:
Show 1, April 6-16
Ethan Brincefield, Mckenzie Brown, Alize Henson, Jamie Highlander, Katie Kricko, Ana Leonard, Brianna Litchfield, Ashlee Mellencamp, Lauren Nichols, Elizabeth O'guin, Emma Petrochko, Auriel Reel, Elizabeth Wheeler, Meagan Williams, Lauren Williamson
Show 2, April 20-30
Larkin Cook, Quin Crumb, Kyle Cumberton, Aaliyah Garnett, Lacey Hamann, Jonathan Howe, Lilith Jackson, Priss Jenkins, Raegan Maddox, Noah Marlowe, Jennifer Morrissey, Stephanie Swart, Olivia Tawzer, Summer Tomes, Yves Tucker