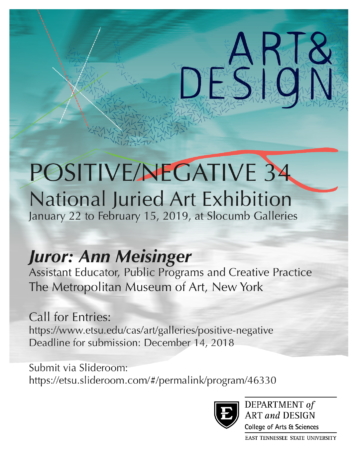 Exhibitions
POSITIVE/NEGATIVE: 34TH NATIONAL JURIED ART EXHIBITION
Juror: Ann Meisinger, Independent Curator, and Assistant Educator, Public Programs & Creative Practice, Metropolitan Museum of Art, NYC
Juror's Lecture + Reception on February 7, Thursday, 5 to 7 p.m.
---
Deadline for Entries: December 14, 2018. The Positive/Negative is a national juried art exhibition, organized yearly since 1985, to provide access to dynamic and innovative contemporary art practices that explore current directions in visual art. For more than 30 years, the P/N exhibitions serve as platform for dialogue to promote diversity, creative excellence and critical thinking within the academic and local communities.
All 2D, 3D and video/sound art are eligible. Open to US artists 18 years and older. There is no theme for the call for submission, Juror will select participating artists, curate the exhibition and award Best of Show and Honorable Mention.
Up to $1,000 in cash prizes with exhibition opportunities. Juror's decision is final. Artists will be notified by email on or before January 5, 2019. All accepted entries must be received by January 17, 2019.Work must not exceed 60 inches in any direction, weight must be less than 50 lbs, or no longer than 15 minutes of digital play. Artists may submit up to 3 titles, images must be saved either as jpeg or pdf, multiple image per file is acceptable. Artist statement must be in doc format only.
---
For inquiries, email SG Director Karlota I. Contreras-Koterbay via contrera@etsu.edu or visit http://www.etsu.edu/cas/art/galleries/positive-negative.php - Entry fee: $41.