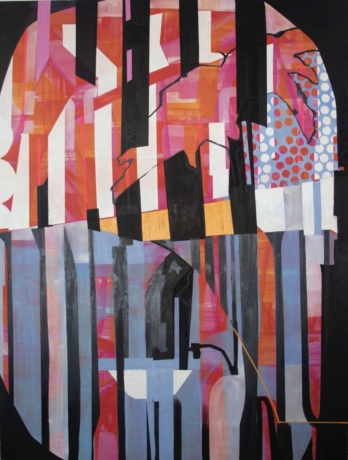 Exhibitions
JODI HAYS: TEND
Jodi Hays
Red Arrow Gallery is proud to announce, TEND, a solo exhibition by Nashville staple Jodi Hays. Hays is a prolific painter who fills many roles as an artist, educator, curator and organizer. This marks Jodi's second solo exhibition at Red Arrow Gallery.
According to Hays, painting can become many things, a way of noting the frayed hem of a dress, the scallop of fingertips, the repetition of a floral pattern. Painting is a particular way of organizing knowledge; landscape, abstraction, among others. These systems (grids) become a scaffold for pictorial inclinations. Stripes generate a placement in pattern, repetition and seriality. Textiles, associated with warmth, the body, pattern, domesticity and weave (stripes) inform this work, as do fragmentary shapes that are plant-like or jaggedly organic, bringing the "outside" into the studio. Hard-edged shapes exist with more rounded/floral moves.
The way I see my paintings is like how a folded map relates to a pocket, holding potential to be a locative device, to consider consequences and ask questions. This exhibition asks what it can mean to care for and remain attentive in painting, revealing how my core iconography elucidates a conversation on abstraction and a generative, inexhaustible mark. -Jodi Hays
Jodi Hays is a Nashville-based artist and curator. She has exhibited her work at galleries and museums across the United States including Corcoran Gallery of Art, Brooks Museum of Art, Wiregrass Museum of Art, Cooper Union and Boston Center for the Arts. Her work can be found in important public and private collections including J. Crew Company, the Tennessee State Museum and Music City Center. Her work is documented in seven exhibition catalogues, and has been positively reviewed in publications such as Number Inc. and Sharon Butler's Two Coats of Paint.
She is a recipient of several awards including from the Sustainable Arts Foundation, Elizabeth Firestone Graham Foundation and the Tennessee Arts Commission. Hays holds a BFA (with Honors) from The University of Tennessee (Knoxville) and an MFA from the Vermont College of Fine Art. Residencies include the Cooper Union, National Parks of America and Vermont Studio Center. Her practice includes co-founding Dadu and COOP Gallery and developing the MFA program at Watkins College of Art. Her work is represented by Red Arrow Gallery (TN).