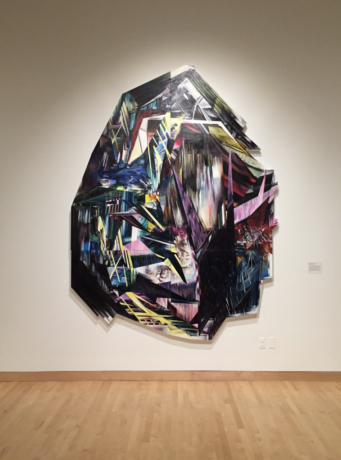 Exhibitions
SISAVANH PHOUTHAVONG & JING QIN: INFINITE MONSOON
Sisavanh Phouthavong, Jing Qin
Sisavanh Phouthavong's take on her latest exhibition Infinite Monsoon:
'As a Lao-American refugee, the process of connecting and disconnecting with a place or community is difficult to convey. The severed perception of migration and displacement as an immigrant is abstractly conveyed throughout my work. The collage and painting process is meticulous yet largely unpredictable. It is an ongoing dialogue that spans across nations about assimilating and relocating into another culture and amplitude. The work captures and embraces the frame-work and environment in its state of flux. Teetering between realism and abstraction, I fold space and time to connect with the present and post-war world. To achieve a kaleidoscopic effect, I employ multiple viewpoints, rhythmic fragmentations, and strong color contrast to fuse both the contemporary and historical landscape elements into one. The puzzle-like construction alludes to the shattered homeland and the themes that encompasses the livelihood of Lao Diasporas: displacement, identity, isolation, and confusion. The mural-sized paintings are purposeful, and address viewers to The Secret War on Laos as a high alert issue. The paintings are designed to be nomadic and modular, so that it can easily be dismantled and rebuilt on a new site; which, symbolizes the way of life for a refugee/immigrant through-out the country, who are still slowly putting their lives back together.'
Jin Qin grew up in the Henan Province, China. Qin's current body of work is a juxtaposition of the commonplace and everyday intertwined with a world of her own imagination filled with fantastical narration and symbolism.