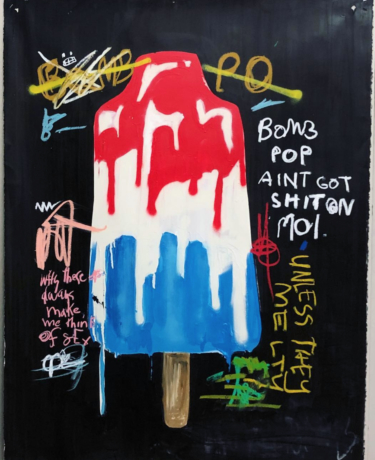 Exhibitions
FRANCES BERRY AT CHANNEL TO CHANNEL
Frances Berry
Frances Berry will be in the gallery for her 1st solo show since debuting in Nashville in 2016. Lady-Like and Lady-Like 2 was shown at the previous Channel To Channel space in the May Hosiery Mill… or Chestnut as we knew it.
This show created a new foundation for Berry's work which began to include many works on paper drawn with mixed media such as pastel, acrylic marker, charcoal and printed imagery. A narrative began to unfold of characters from her MS upbringing, strangers, and lady-parts. Sensual and sexual at times and bizarre and humorous at others, Berry has created a body of work that embodies her spirit, personality, and is often times autobiographical.
The past 3 years Berry has continued to create a multitude of work on paper that includes imagery reminiscent of Memphis, in which she lives, lady parts, and items such as Bomb Pops.
Recently, Berry has begun to create mural work and will do the same in the gallery as well as drawing and painting directly on to the floor for the month of May.