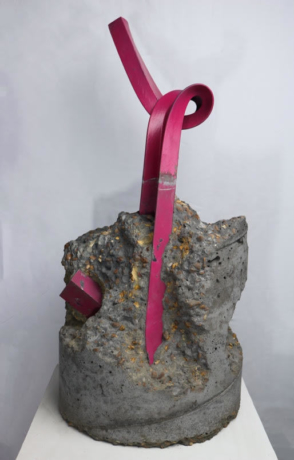 Exhibitions
DESMOND LEWIS: LET THE COLOR(ED) OUT
Desmond Lewis
The Red Arrow Gallery is pleased to present Let the Color(ed) Out, a solo exhibition by Desmond Lewis, opening on Saturday, March 14, 2020 at 6pm.
---
Desmond Lewis is an artist who uses steel and concrete in his sculptures in an attempt to correlate the invisibility of structural steel within buildings with the concealed structural importance of African Americans in the United States. Within his work he creates fabricated and forged sculptures that abstractly address conversations surrounding race, equality and community.
"In this new body of work, I am intentionally adding color in my sculptures, to show that despite the darkness of racial situations in the South, a sense of lightness and vibrancy can emerge. This intentional addition is the result of personal stories and teachings from within my family.
Just a few miles away from The Red Arrow Gallery, in downtown Nashville, my mom had to navigate growing up in the Jim Crow Era where places and objects were separated based on race. When she and my grandmother went to a department store, my mom would sneak away to use the "Whites" water fountain as my grandmother browsed the clothing racks. She didn't use the "Colored" water fountains as they looked dirty because of rust stains and the water didn't taste the same. The way my mom understood race at the time was that white people weren't "white" and black people weren't "colored" like the colors on the color wheel that she learned in school. My mom viewed this notion of race as an "abstract" concept. The cleaning lady at the department store would then usher my mom away knowing that all hell could break loose if a white person caught my mom drinking from "their" fountain.
My mother continues to emerge from this dark moment in American society where she embraces vibrant diversity in the classroom in one of Nashville's most diverse high schools. She also prepared me to be strong as I search for the positive color in the racial situations that I encounter in a turbulent society that continues to dispel the humanness of black men. Just because the physical walls of American society have destined black people to have a dark past, doesn't mean that we can't emerge and build a vibrantly colored future."
— excerpt, Desmond Lewis, Artist Statement, January 2020

---
Desmond Lewis is a sculptor who was born and raised in Nashville, TN. Lewis received his AA from Bard College at Simon's Rock in Great Barrington, MA in 2012, BS from Tennessee State University in Nashville, TN in 2014, and MFA from The University of Memphis in 2017. In 2017, he was named one of the 100 Interesting and Influential People of Memphis. His work can be found in public and private collections including: Penland School of Crafts, Carolina Bronze Sculpture Park, City of Lenoir, NC, City of Hickory, NC, Vermont Carving and Sculpture Center, The University of Memphis, Soulsville USA, NexAir LLC, Skowhegan Parks and Recreation, and the Stax Museum of American Soul Music. In 2018, Desmond was awarded a public commission by Urban Art Commission that will be permanently installed in the Orange Mound Community (in Memphis, TN), to be completed in 2020. Past residencies include the Skowhegan School of Painting and Sculpture in 2018, Pittsburgh Glass Center in 2018, Haystack Mountain School of Crafts in 2017, and the Vermont Carving and Sculpture Center in 2016. He maintains a full-time studio practice in Memphis, Tennessee.